All three of these books advocate a values-driven approach toward being intentional about your time use. They encourage us to become social scientists in our own lives, but not about the dry, boring, rote work that we would commonly term productivity. Not even close.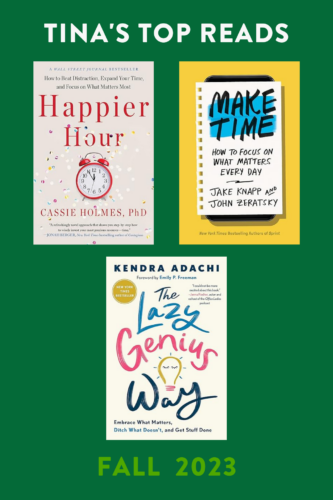 Because productivity doesn't matter if your hours and minutes are packed to peak efficiency doing anything and everything that isn't important. These books are all about effectiveness, and in order to live an effective life, you have to know what your values are.
Then you can allocate your most precious of resources–time–toward those values. 
A natural byproduct of this set of decisions is that you'll feel a lot less guilty (maybe even not guilty at all!) about not allocating time toward anything that doesn't align with your values. Your value filter streamlines what you accept onto your schedule and what you don't. Hurray!
These three books are my favorites from the pile of books I read as support material for the Time Stewardship class I teach at BCS. Let me tell you why…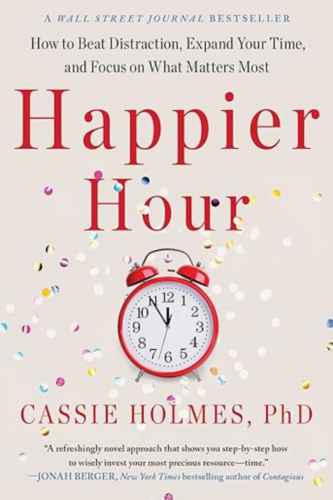 Happier Hour
Happier Hour has so much meaty information about the science behind what makes us humans happy. Did you know that younger people experience happiness very differently, and from different causes, than older people do? Did you know there are ways to hack your commute (or any tedious task that you absolutely have to do) so it feels more enjoyable? Did you know that having a feeling of scarcity about your time remaining on earth will actually make you appreciate it more and therefore feel happier as you use that time?
Lots to think about, but I love doing, and Cassie Holmes does not disappoint. The keystone concept in this book is her mosaic approach to defining a schedule where she accounts for mental and physical energy peaks while also plotting in what she has to do and what she wants to do for maximum meaning and happiness every day. If you're a visual learner, her "time crafting" schedule templates will be a revelation.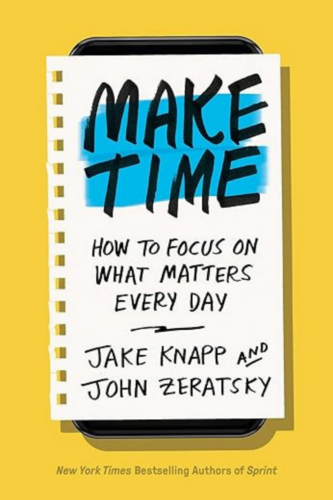 Make Time
Make Time was written by a couple of tech guys who know the rat race all too well and have devised a customizable method for escaping it. The book is written a lot like a choose-your-own-adventure battle plan. Jake Knapp and John Zeratsky present their process of identifying your value-based highlight (the most meaningful thing you'll do that day), honing your concentration skills to help you actually accomplish your highlight, paying attention to your physical and mental energy levels throughout the day, and reviewing for improvement–all in easy to absorb bite-size chunks.
Their overall goal is to help you reduce the amount of time you spend by default, the time you forget, the time that gets you through life without remembering what you did or who you were with. If that sounds good but also exhausting, there's hope…you don't have to pay distinct attention to everything (because that's impossible), but you can be intentional about what's most important.
(Note: If you're looking for a helpful gift for a high-school or college graduate, Make Time is a good fit. The ideas in this approachable book will be really useful as these young adults head out into the "real world.")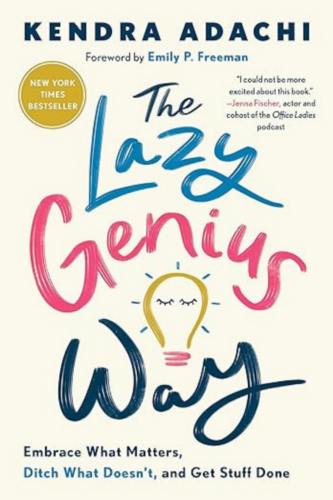 The Lazy Genius Way
Kendra Adachi has intentionally let frustration be her guide and gone in pursuit of the small things, small decisions, small thoughts, small attitude shifts that, if executed proactively, can nip future frustration in the bud. And that really is the genius of her approach–the tiny steps and decisions she's identified have massive, life-altering-in-a-good-way ramifications, of one-small-step-for-mankind magnitude.
Kendra's method is not a lock-step program with rigid rules, but rather a set of principles that help bring to the surface what really matters and then help guide your approach to letting go of the rest. It's a mindset change and there are some step-by-step bits, but nothing that will make you feel constrained or obligated. In fact, her method helps you identify and remove all those obligations that aren't actually yours. What a relief!