Agency and Other Non-Profit Relationships
"We couldn't do what we do without Birch." ~Helene W., Crossroads Food Bank
Birch Community Services partners with over 70 nonprofits, churches, and other agencies that are serving those in need in the Northwest. These agencies include homeless shelters, food pantries, domestic violence shelters, and substance abuse centers. Some of these agencies serve clientele as far away as the Oregon coast and the Cascades mountain town of Welches. These agencies regularly serve up to 15,000 individuals with the food BCS provides.
Agencies pay a service fee of $150 and shop once a week, receiving 2,000-10,000 pounds of food and clothing each week. Due to the nature of our donations, BCS is unable to take specific orders from agencies but there will always be a wide variety of items available.
Birch also has reciprocal partnerships with agencies, where we both give and receive products to/from other nonprofits to work together to maximize the reach and variety we all offer our clientele.
BCS policy only allows the use of debit cards for online payment. We also accept in-person check or cash payments, or you may mail check payments in.
If you have any questions about payments, please email payments@bcsi.org.
On the payment page, you may login to your PayPal account to complete the transaction.  If you do not have a PayPal account, you can set one up for free, or you can choose to Pay using a Debit Card by clicking the link below the Login button.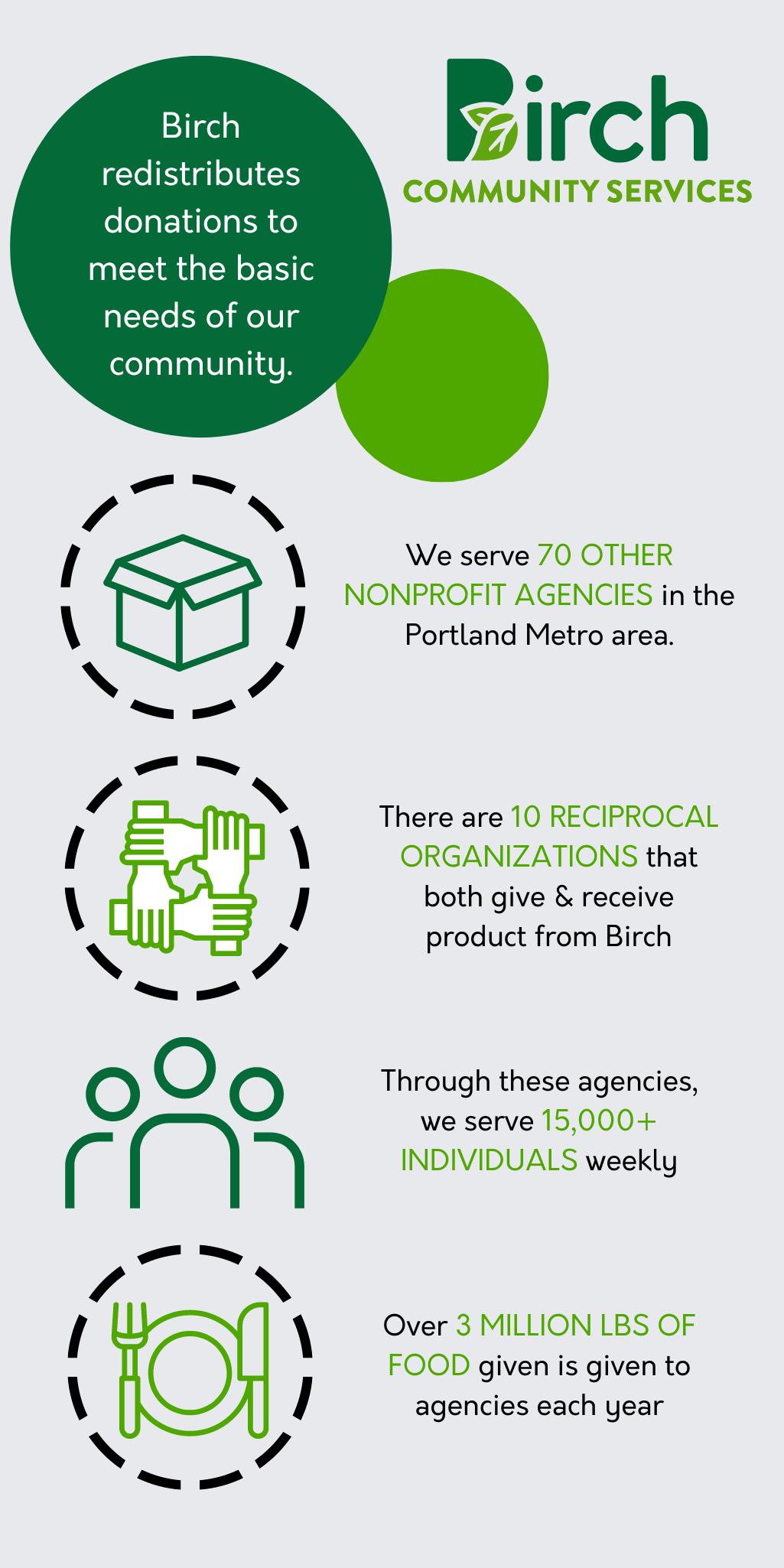 Could your nonprofit benefit from receiving food from Birch? 
Click below to view a list of our 2021 agencies who have received over three million pounds of food from Birch Community Services.
Agencies receive over three million pounds of food each year. Below are current Birch Agencies. 
Angels of God
Basic Needs (Calvary Chapel Southeast)
Beautiful Portland
Children's Club, Inc.
Church of the Nazarene Adonai
Clark County Food Bank*
Columbia Gorge Helping Hands Program
Compassion 360
Constructing Hope
Crossroads Food Bank*
East County Aid and Comfort
Emmanuel Community Services
Estacada Area Food Bank
Felida Bible Church
Free Food Ministries
Freedom House Ministries
Gethsemane Ministries
Gleaners of Clackamas County*
Harvest Christian Church
Hope Station Community Services, Inc.*
House of Myrrh Ministries
Inn His Care
Lifeline Connections
Live Love Center (NW)
Mission Teens, Inc. (Northwest Bible Training Center)
Mother & Child Education Center
Need 2 Feed (As Is Church)
New Life Friends Church
No One Left Behind
On The Move Ministries
Pacific Northwest Outreach*
Portland Adventist Community Services (PACS)
Portland Lents Foursquare (Revolution Foursquare Church)
Portland Rescue Mission*
Potluck in the Park
Reedwood Friends Church
Salvation Army Corps (Gresham)
Sanctuary Church Food Pantry*
Set Free Christian Fellowship
Shepherd's Gate Church
Skagit Gleaners*
South Kelso Neighborhood Association
St. Henry's Day Shelter
St. Henry's St. Vincent DePaul
St. John The Baptist St. Vincent DePaul
St. Mary Magdalene Parish (The Madeleine)
St. Rita's SVdP
Sunshine Division
Straightway Services
Teen Challenge Men
Templo El Monte Calvario
The Bridge – PDX
The Loft
The Redeemed Christian Church of God Chapel of Mercy
Tigard Community Friends Church FoodShare Pantry
Tremont Church Food Pantry
Union Gospel Mission*
Waste Not Food Taxi
Waves of Grace NW
Zarephath's Pantry
 *Reciprocal organization that both gives and receives from Birch