What you need to know before shopping: 
In order to protect our community and stay open, we greatly appreciate you complying with the following safety measures for shopping.
Please do not come in if you or someone in your family is coughing or not feeling well.
Please consider coming in a little later in the day to avoid the early rush.
Please avoid bringing your children with you if at all possible.
In addition to sanitizing often:
We will be adhering to our guideline of one shopper per family unless medically necessary.
We are trying to minimize activity in the office and will be discontinuing coffee and tea service.
In order to stay open, we still need volunteers, so your help is appreciated.
Email communication is preferred.
What We Do: Food, Education, Freedom, Legacy
What People Are Saying
Thank you for taking the time to tell us about Birch Community Services and showing us what you do.  We are inspired to replicate this in our community!  God Bless You!
"Thank you so much for all you do.  It is only because of Birch that I have been able to reduce my work hours and homeschool our 6th grade special needs daughter."
"Our money used to control us. But not anymore!! We have learned to make our money work for us and feel financial peace. The Good Sense course taught us that. We feel we have some extra at the end of the month and feel it is important for us to give our spot at BCS to another family that may need it more. We feel super blessed to have found BCS in our time of need."
"Effective today, I will no longer be utilizing Birch Community Services.  I want you to know this is so hard for us to decide to leave as we feel each of you have become our family. You have all been there for me and my family through the good times and bad times.  We have accomplished so much with the help of BCS and one of our first major accomplishments was the purchase of our first home.  We managed to pay down much of our debt and have paid off our car. I would like to thank you for all your prayers, tears, laughter and excitement you have shared with me."
"I want to thank you for this wonderful place you have started.  I am amazed every week when I come here to shop.  You are nice, helpful, and do a wonderful job!"
"A big thank you to all those who work at BCS helping to provide for struggling families and make it possible for us to have a good meal to eat.  You've truly blessed our family!  You are greatly appreciated!!!"
"Just wanted to say I am thankful for Birch and the amazing people who make it possible for me to provide for my family!"
"3 years ago this month I made my first drive to Birch.  I cried all the way there… I was grateful for the help I was to receive, but the gifting further reminded me of the place we were in and the fact that the path onward was unknown to me.  Thank you for your loving care over the past years.  Thank you for being patient as we have struggled to heal and grow and make the choices that would once again find us able to support ourselves."
"Birch has been a TREMENDOUS blessing to our family and we have always felt a sense of compassion and caring with ALL of the staff. I have shared many times over that when we are there, we are always greeted with a smile and BY NAME instead of Family #54.  Thank you for all that you have done for us!"
"I've greatly appreciated all the help I've received from Birch Community Services. Not just the food, boots, and other extras, but the friendly, encouraging people too. You've worked hard to make BCS a quality place and you've succeeded."
BCS Participant – Single Mom
"Just wanted to take the time to say Thank you. I am a single mom and struggling to keep food in my house and utilities on. You have helped me more than you know. It's such a great feeling to know my children will have full bellys. I can't begin to explain how thankful I am."
"What we valued most about our time with BCS was the reciprocity… not only did we receive, but we were able to give out of our surplus, not only were we served, but we were able to serve.  We have endured the hardest time financially in our family and come out stronger.  We will never forget all that you did for us in this chapter of our lives.  You are such a blessing."
"Being involved with BCS has affected our lives in so many ways. Not only has it enabled us to put food on the table and put money in savings, it has given our family opportunities to volunteer and work with a wonderful group of people. BCS has given me a way to help the bottom line through saving on groceries, clothes, and other necessary items. We have been blessed in so many ways through BCS!"
"This program relieved so much stress from our lives during a time when we had little hope and resources.  During the past few months we were able to pay down all of our credit card debt, pay all medical bills, and started a savings account for our home we plan to buy in 2 years."
BCS redistributed 9.5 million pounds of food, clothing, and household items to working struggling families in FY 2017.  Learn why and how…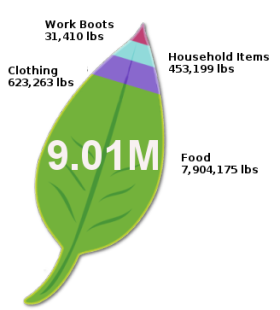 We believe everyone can learn something new.  Through two teaching gardens, our participants can learn to grow their own healthy food in sustainable ways.  Learn about our Gardens…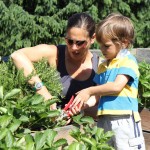 2018 -
3107Pounds of Produce
2017 -
2082 Pounds of Produce
2016 -
3939 Pounds of Produce
2015 -
2670 Pounds of Produce
2014 -
2898 Pounds of Produce
2013 -
4186 Pounds of Produce
2012 -
2975 Pounds of Produce
Practicing Sustainability
BCS is 64% sustainable from an operating cash perspective.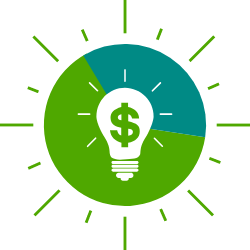 By developing internal revenue streams, and recycling responsibly, we do our best to embody financial sustainability and accountability to our donors. We take economic, environmental, and social sustainability seriously.  Learn about our sustainable practices…
BCS is able to receive donations of food, clothing, footwear, and small household items.
Learn more about the benefits of donating product to Birch…
Give Product
Over two hundred and eighty community partners donate food, clothing, footwear, and small household items to help address poverty in our community. Additionally, we are grateful to organizations that help us by donating their time and/or provide funding to sustain our program.  Learn about the benefits of donating product to BCS, volunteering, or giving money.
BCS is open to participants for shopping on Mondays, Wednesdays, and Fridays
(No shopping on Tuesdays and Thursdays)
Monday:  11:00am to 5:00pm

(Last shopper accepted at 5:00 p.m.)
Wednesday: 11:00am to 6:00pm

(Last shopper accepted at 6:00 p.m.)
Friday: 11:00am to 5:00pm

(Last shopper accepted at 5:00 p.m.)
The BCS office is open on Tuesdays and Thursdays from 9am until 3pm; we are open to receive donations during these hours.