Potatoes were first grown in the Andean region of South America
There are over 100 types of potatoes varying in size, color, and texture
The Latin name for potatoes is Solanum tuberosum, loosely translating to "soothing tuber"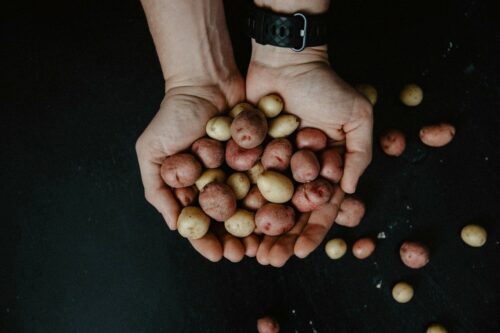 Health Benefits of Potatoes
Potatoes get a bad rep! This humble plant is popular for being a versatile, filling, and comforting food. After hearing for years that potatoes are "diet wreckers" because of their carbohydrate content, it might be surprising to learn that they are actually low in calories and rich in health-promoting nutrients! Here are just a few of the reasons why potatoes could be a great addition to your diet:
Vitamin B6

 is important for a healthy heart and nervous system, as well as for making red blood cells, serotonin, and melatonin. One cup of baked potatoes has a whopping 32% of the B6 you need in a day!

Kukoamines and Potassium

 support healthy blood pressure and cardiovascular health. Kukoamines are only found in a handful of foods, including goji berries.

Polyphenols

 reduce inflammation and oxidation in the body, making them both protective and supportive for various health conditions.

Fiber

 is key for helping you stay full for longer and feel satisfied after a meal. Fiber also supports gut health, healthy lipid levels, blood sugar regularity, and bowel movements.
And these are some tips for getting the biggest nutritional bang for your buck:
Leave the skin on! Potato skin contains up to half of the polyphenols from the whole tuber, as well as most of the fiber. Fiber
Double the antioxidant content of potatoes by getting them cold shortly before eating? Simply slice to ¼" thickness and stick them in the fridge for a day or two.
Microwaving is the most reliable method of cooking potatoes when it comes to retaining its nutrients. Boiling, baking, and steaming are comparable runners-up.
Opt for smaller potato varieties to optimize the ratio of skin to flesh, giving you a higher concentration of nutrients. Large, mealy potatoes like the Russet are less likely to keep you full and have high glycemic index ratings.
Enjoy the benefits of potatoes without causing a blood sugar spike by pairing with other fiber-rich vegetables and enough healthy fats and protein.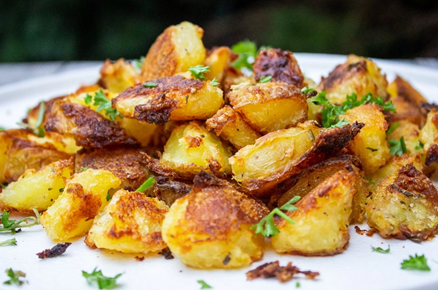 There's just something about a crispy potato wedge that makes me happy (you too?!) so I was thrilled when I tried a healthier spin on classic home fries. This recipe for Crispy Oven Roasted Potatoes from Two Kooks in the Kitchen gives you that crispy, comforting deliciousness without frying which helps to retain as much of the nutrients as possible. Try experimenting with different spice and herb combinations, like parsley, thyme, and mustard powder to keep things interesting.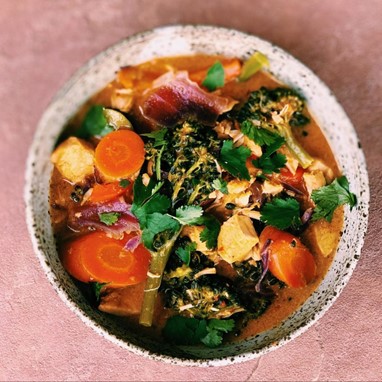 Curries are one of my favorite ways to quickly pull together a flexible and versatile meal.
You can pack in any combination of veggies alongside your protein of choice. Fresh, frozen, and canned all work!
You can go super simple with a pre-made curry sauce or try a more layered recipe where you build the curry flavors using spices from your pantry. Different cultures have different flavor profiles and spice levels for their curries, so just be aware that a pre-made Thai curry will taste different (but still just as delicious!) compared to, say, an Indian curry.
Curries are also a great "set and forget" option for slow cookers or Instant Pots.
This recipe for Potato Curry from Well Plated by Erin is a great example of a curry built by layering flavors. You could easily swapping out the chickpeas for cooked tofu or chicken and add whatever veggies you have on hand. Some of my favorite add-ins are broccoli, red bell pepper, mushrooms, and green beans. If you're starting with a pre-made curry sauce, like the Yai's Thai Coconut Curry we recently found at Birch, try this Instant Pot Chicken & Veggie Curry from Melissa's Healthy Kitchen; simply add 1" cubed potatoes at the same time as the chicken for a hearty and nourishing meal.
Do you have questions about potatoes? Did you try one of these recipes, or have another recipe you'd like to share? Send an email to jasmin.conklin@nunm.edu with "Birch Nutrition" in the subject line.