Beetroot, also known as table beets, descended from sea beets in the Middle East as early as 8500 BCE where they were grown primarily for their leaves.
Eventually farmers started prioritizing larger root bulbs and fewer greens on their beet plants, leading to cultivation of the now-commonly consumed table beet.
If you've ever looked at Swiss chard and thought it looked similar to beet greens, you're not wrong! These plants share a common ancestor in sea beets.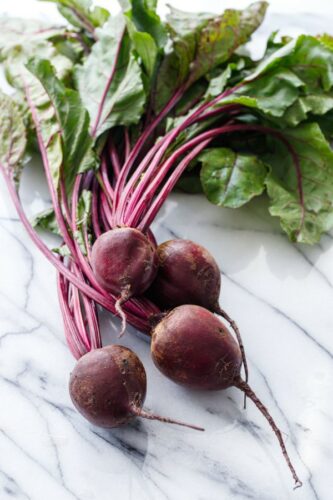 This root vegetable has a sweet, earthy taste that lends itself well to being consumed in a variety of ways: roasted, juiced, dehydrated, pickled, pureed, and baked into breads are only some examples of this. In addition to its culinary applications, beets have been used as a natural dye and medicinal remedy. Eating beets may turn urine or stool pink, which can be alarming, amusing, or both!
Today there are multiple varieties of the table beet, including red, golden, candy cane, and white. Each has a slightly different nutrient profile and taste, but most of the research on the health effects of beets has been conducted using red varieties of table beets.
Beets are a rich source of potassium, phosphorus, calcium, magnesium, iron, copper, zinc, and manganese. The consumption of beetroot is considered highly beneficial for individuals with diabetes, cardiovascular risk, and renal risk. Some of these benefits include:
They're powerful antioxidants, ranking among the top ten antioxidative plants. In fact, some studies have shown that consumption of beets produces an anti-inflammatory effect greater than that of NSAIDS like ibuprofen.
Beets help stabilize your blood sugar levels by regulating insulin homeostasis, improving insulin resistance, and slowing your glycemic response after eating (slower response = fewer blood sugar spikes!)
Blood pressure-lowering effects have been observed in both hypertensive and normotensive populations.
Consumption of beets has also been correlated with improved kidney function and a reduction in kidney disorder-associated mortality rate.
Beet greens are also incredibly nutritious and have been associated with decreased blood glucose levels, improved lipid levels, and improved liver function.
There are many ways to enjoy beets, and one of the easiest preparations is simply to roast them. Mix things up by marinating them after roasting, adding a dressing, or combining with other vegetables and grains to make a satisfying dish.